BOYS ARE BACK: Bay Baseball Begins Second Year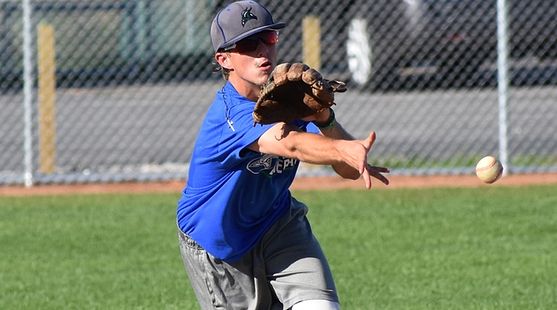 ESCANABA---The Bay College Norse baseball team is back for its second season, with a new look for the 2019-20 season. Gone are the three Australian players who were a part of last year's inaugural team. Also gone are pitchers Tyler Skufca, Justin Popelka, and Garret Finkbeiner, all of whom have aged out.

But Coach Mike Pankow has reloaded with some out-of-the-area talent, with two Canadians, a German, and one Dominican Republic native joining the roster.


And from the U.P.'s top high school team, the Gladstone Braves, come Jared Crow, Carson Shea, Cody Frappier, and Cooper Cavadeas.

"It's always exciting to get the kids back on campus," Pankow said at Wednesday's practice. "I'm excited to see all of the new faces, along with some guys from last year."

"I find it similiar to last year. We have a solid group of U.P. kids, and that's always going to be our backbone. But then adding kids from outside the area to compliment that is good. So we've added some international pieces, too."

Also coming into the Norse fold this season is Ben Snyder. The catcher/pitcher from North Central High School played last season at the College of Lake County in Illinois. Snyder says he missed the Upper Peninsula, so he transferred to Bay.

"Coach Pankow is doing a good job with this program, and I kind of missed home a bit," Snyder said. "I figured I'd come back and play some U.P. baseball. It's great to get back out ohn the field. I've been waiting for it all summer.The team looks great. We've definitely got some good young talent."


One of the returning players this season is second baseman Jeff Allen, a Waterviliet High School graduate who was hampered for much of last season by a hamstring injury. He is back for his second year.

"I feel like I'm going to be a lot more comfortable this year," Allen said. "I feel like I'll take on a lot more of a leadership role, kind of set the tone for the freshmen. Hopefully, we can keep building the foundation for the program."

Escanaba's Jake LaFave joins the team this year, as does Bark River-Harris's Matt Richer, who took a year off from baseball, and Logan Fish (Negaunee).

Some other returning players include Mason Korhonen (Bark River-Harris), Alek Santure (Superior Central), Alex Morehouse (Sault Ste. Marie), Dane Vanenheuval (Norway), Kyler Moir (Hillman), Ty Ziegler (Hortonville), Connor Olson (Washburn), Riley Johnson (Norway), and Ryan Clark (Harrison).

The Norse were 10-27-1 last season, and did not make the playoffs after getting swept in seven straight games by Dakota County Technical College.

Pankow said that experience will help the Norse to see where they need to get better heading into this sophomore season.


"We've got a great group coming in," Pankow said. "There's a ,lot to be excited about."

"I feel great," Allen said. "I feel like we have a good team this year. We're bringing in a lot of new pitchers. A lot of strong arms."

"I think on the defensive side of the ball, if we eliminate the mental errors, we will be a tough team to beat," Snyder said.

This year's Norse team began practicing this week and will open the exhibition season with a doubleheader at Northland College in Ashland, Wis., on Sept. 21, and a game against Hibbing, Minn., on the 22nd.

Bay will play Delta College in a three-game series at home on Sept. 2829, and will host Miwaukee Tech in a doubleheader on Oct. 6.

Click the thumbnails in the ARTICLE HIGHLIGHTS box above to see photos, videos, and see interviews with Panlow, Snyder, and Allen.