ELKS CHAMPIONS AGAIN: Esky Wrestlers On Top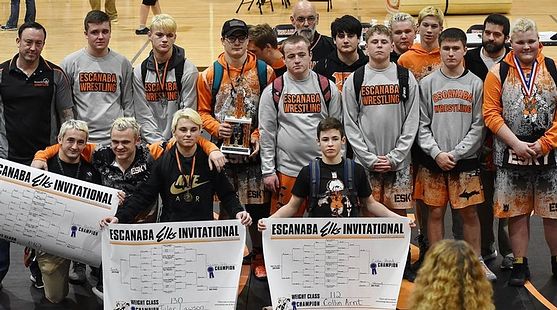 ESCANABA---The Escanaba Eskymos won the championship of the Elks Wrestling Championship on Saturday, with five Eskymos reaching the finals and three winning championships. Hunter Larson, Tyler Lawson, and Collin Arnt all took home their brackets. Grayling finished second, Westwood was third, Iron Mountain took fourth.

There were 14 teams on hand for the event.


TEAM SCORES
1

Escanaba

205.5
2
Grayling
184.5
3
Westwood
144.5
4
Iron Mountain
141.0
5
Kingsford
119.5
6
Benzie Central
110.0
7
St. Ignace
102.0
8
Munising
84.0
9
Newberry
74.0
10
Ishpeming
70.5
11
Menominee
55.0
12
Negaunee
52.5
13
Bark River-Harris
51.0
14
Marquette
44.0
15
UP Extra
11.0
16
Escanaba 2
6.0
17
Gwinn
0.0
17
U.P. Extra 3
0.0
17
UP Extra 2
103 Guaranteed Places
1st Place - Joe Armstrong of Grayling
2nd Place - Avry Corrigan of Bark River-Harris
3rd Place - Eli Tallent of Benzie Central
4th Place - Johnathan Litzner of St. Ignace
5th Place - Christian Ryan of Westwood
6th Place - Kylie Berringer (Grayling) of UP Extra
1st Place Match
Joe Armstrong (Grayling) 19-2, So. over Avry Corrigan (Bark River-Harris) 16-3, . (Fall 2:55)
3rd Place Match
Eli Tallent (Benzie Central) 12-9, Fr. over Johnathan Litzner (St. Ignace ) 12-7, Fr. (Fall 1:43)
5th Place Match
Christian Ryan (Westwood) 9-7, Fr. over Kylie Berringer (Grayling) (UP Extra) 7-6, Fr. (MD 15-2)
112 Guaranteed Places
1st Place - Collin Arnt of Escanaba
2nd Place - Joe Derocha of Westwood
3rd Place - Parker Stroud of Iron Mountain
4th Place - Zach Duncan of Grayling
5th Place - Michaael Hill-Scott of Kingsford
6th Place - Canaan Kreiner of Benzie Central
1st Place Match
Collin Arnt (Escanaba) 14-5, So. over Joe Derocha (Westwood) 14-4, Jr. (Fall 2:24)
3rd Place Match
Parker Stroud (Iron Mountain) 17-8, Fr. over Zach Duncan (Grayling) 14-3, So. (Fall 2:25)
5th Place Match
Michaael Hill-Scott (Kingsford) 9-10, Fr. over Canaan Kreiner (Benzie Central) 8-11, . (Fall 2:07)
119 Guaranteed Places
1st Place - Wyatt Carlson of Westwood
2nd Place - Jaeger Wilson of Ishpeming
3rd Place - Travis O`Neil of Newberry
4th Place - Nick Greem of Grayling
5th Place - Billy Crisp of Munising
6th Place - Isaac Manier of Iron Mountain
1st Place Match
Wyatt Carlson (Westwood) 12-5, Jr. over Jaeger Wilson (Ishpeming) 4-2, Fr. (Fall 0:19)
3rd Place Match
Travis O`Neil (Newberry) 14-7, Fr. over Nick Greem (Grayling) 6-11, Jr. (Dec 11-5)
5th Place Match
Billy Crisp (Munising) 11-8, Fr. over Isaac Manier (Iron Mountain) 16-5, Fr. (Fall 4:18)
125 Guaranteed Places
1st Place - Thomas May of Grayling
2nd Place - Brodey Bevins of Escanaba
3rd Place - August Early of Kingsford
4th Place - Trevor Malburg of Iron Mountain
5th Place - Noah Gielecki of Newberry
6th Place - Paytin Curns of St. Ignace
1st Place Match
Thomas May (Grayling) 13-2, So. over Brodey Bevins (Escanaba) 12-7, So. (Dec 5-2)
3rd Place Match
August Early (Kingsford) 15-7, Sr. over Trevor Malburg (Iron Mountain) 15-8, So. (Fall 2:22)
5th Place Match
Noah Gielecki (Newberry) 14-6, So. over Paytin Curns (St. Ignace ) 6-9, So. (Fall 0:23)
130 Guaranteed Places
1st Place - Tyler Lawson of Escanaba
2nd Place - Dow Dawson of Iron Mountain
3rd Place - Ethan Wilcox of Kingsford
4th Place - Jarred Streeter of Benzie Central
5th Place - Aidan Smith of Menominee
6th Place - Jordan Wakeley of Grayling
1st Place Match
Tyler Lawson (Escanaba) 13-7, So. over Dow Dawson (Iron Mountain) 15-2, Sr. (MD 12-4)
3rd Place Match
Ethan Wilcox (Kingsford) 9-7, Sr. over Jarred Streeter (Benzie Central) 9-9, So. (DQ)
5th Place Match
Aidan Smith (Menominee) 6-10, Jr. over Jordan Wakeley (Grayling) 6-8, So. (Fall 0:58)
135 Guaranteed Places
1st Place - Tre Sabotta of Iron Mountain
2nd Place - Darrin Hawes of Grayling
3rd Place - Jeremy Hill of Negaunee
4th Place - Connor Traver of Westwood
5th Place - Kyle Ericson of Ishpeming
1st Place Match
Tre Sabotta (Iron Mountain) 16-5, Fr. over Darrin Hawes (Grayling) 12-10, Jr. (Dec 14-7)
3rd Place Match
Jeremy Hill (Negaunee) 2-1, Sr. over Connor Traver (Westwood) 9-5, Sr. (MD 14-5)
5th Place Match
Kyle Ericson (Ishpeming) 0-1, Jr. over () , . (Bye)
140 Guaranteed Places
1st Place - Hunter Larson of Escanaba
2nd Place - Sam Ross of Benzie Central
3rd Place - Michael Stepanovich of Benzie Central
4th Place - Preston Roberts of Iron Mountain
5th Place - Devon Kurz of Bark River-Harris
6th Place - Tyler Lindholm of Westwood
1st Place Match
Hunter Larson (Escanaba) 18-2, Jr. over Sam Ross (Benzie Central) 15-7, So. (TF-1.5 0:00 (16-1))
3rd Place Match
Michael Stepanovich (Benzie Central) 10-9, So. over Preston Roberts (Iron Mountain) 17-7, Fr. (Dec 7-4)
5th Place Match
Devon Kurz (Bark River-Harris) 6-3, Jr. over Tyler Lindholm (Westwood) 7-7, Jr. (Fall 1:28)
145 Guaranteed Places
1st Place - Max Halstead of Grayling
2nd Place - Toby Wilcox of Kingsford
3rd Place - Tyler Racicot of Bark River-Harris
4th Place - Jacob Gribbell of Newberry
5th Place - Hunter Brown of St. Ignace
6th Place - Ryan VanEffen of Escanaba
1st Place Match
Max Halstead (Grayling) 17-1, Jr. over Toby Wilcox (Kingsford) 17-6, Fr. (Dec 12-6)
3rd Place Match
Tyler Racicot (Bark River-Harris) 15-5, So. over Jacob Gribbell (Newberry) 14-5, So. (Dec 4-3)
5th Place Match
Hunter Brown (St. Ignace ) 17-4, Jr. over Ryan VanEffen (Escanaba) 10-10, So. (Fall 2:12)
152 Guaranteed Places
1st Place - Hunter Wroblewski of Menominee
2nd Place - Noah Weaver of Escanaba
3rd Place - Jackson Holdwick of Marquette
4th Place - Richard Nalette of Newberry
5th Place - kevin Wynn of Newberry
6th Place - James Pietro of Westwood
1st Place Match
Hunter Wroblewski (Menominee) 12-6, Sr. over Noah Weaver (Escanaba) 6-8, Jr. (Fall 2:35)
3rd Place Match
Jackson Holdwick (Marquette) 3-7, Jr. over Richard Nalette (Newberry) 12-6, Sr. (Fall 2:03)
5th Place Match
kevin Wynn (Newberry) 3-1, . over James Pietro (Westwood) 2-4, Jr. (Fall 1:50)
160 Guaranteed Places
1st Place - Trevor Povolo of Kingsford
2nd Place - Kahler Geyer of Escanaba
3rd Place - Rocco Carlson of Westwood
4th Place - Trevor Matson of St. Ignace
5th Place - Cameron Depew of Newberry
6th Place - Tobyn Kirbach of Benzie Central
1st Place Match
Trevor Povolo (Kingsford) 16-4, Sr. over Kahler Geyer (Escanaba) 12-7, So. (MD 13-3)
3rd Place Match
Rocco Carlson (Westwood) 15-5, Jr. over Trevor Matson (St. Ignace ) 15-4, Sr. (OT 2-0)
5th Place Match
Cameron Depew (Newberry) 13-10, Jr. over Tobyn Kirbach (Benzie Central) 8-6, Jr. (Dec 6-0)
171 Guaranteed Places
1st Place - Aleric Martin of Ishpeming
2nd Place - Greg Paquin of St. Ignace
3rd Place - Baily Papineau of Escanaba
4th Place - Gabe Cole of Munising
5th Place - Seth Smith of Menominee
6th Place - Eli Bindschatel of Grayling
1st Place Match
Aleric Martin (Ishpeming) 6-0, Jr. over Greg Paquin (St. Ignace ) 17-3, Sr. (Inj. 0:00)
3rd Place Match
Baily Papineau (Escanaba) 9-6, Sr. over Gabe Cole (Munising) 14-6, Jr. (Fall 2:15)
5th Place Match
Seth Smith (Menominee) 12-7, Sr. over Eli Bindschatel (Grayling) 12-13, Sr. (MD 15-4)
189 Guaranteed Places
1st Place - Caleb Burklund of Iron Mountain
2nd Place - Logan Joseph of Grayling
3rd Place - Caleb Brown of St. Ignace
4th Place - Andre Walsh of Ishpeming
5th Place - Matt Gosma of Benzie Central
6th Place - Leo Helppi of Negaunee
1st Place Match
Caleb Burklund (Iron Mountain) 21-4, So. over Logan Joseph (Grayling) 10-3, Sr. (Fall 3:36)
3rd Place Match
Caleb Brown (St. Ignace ) 18-3, Jr. over Andre Walsh (Ishpeming) 5-2, Sr. (Fall 2:01)
5th Place Match
Matt Gosma (Benzie Central) 17-3, Sr. over Leo Helppi (Negaunee) 10-4, Jr. (Dec 5-0)
215 Guaranteed Places
1st Place - Sam Gilles of Westwood
2nd Place - Cody Hanson of Benzie Central
3rd Place - Chris Ricker of Marquette
4th Place - Garett Rickley of St. Ignace
5th Place - Dallas Hall of Negaunee
6th Place - Isaiah Olson of Escanaba
1st Place Match
Sam Gilles (Westwood) 18-1, Sr. over Cody Hanson (Benzie Central) 14-8, Jr. (Fall 2:33)
3rd Place Match
Chris Ricker (Marquette) 9-6, Fr. over Garett Rickley (St. Ignace ) 9-2, So. (Fall 3:00)
5th Place Match
Dallas Hall (Negaunee) 11-6, Sr. over Isaiah Olson (Escanaba) 4-6, Sr. (Fall 2:00)
285 Guaranteed Places
1st Place - Richard Sneller Jr. of Munising
2nd Place - Eddie Cardew of Kingsford
3rd Place - Nick Bluemlein of Grayling
4th Place - Giovanni Strong of Escanaba
5th Place - Giovanni Colavecchi of Iron Mountain
6th Place - Bryce Dunstan of Negaunee
1st Place Match
Richard Sneller Jr. (Munising) 10-1, Sr. over Eddie Cardew (Kingsford) 16-4, Jr. (Fall 1:07)
3rd Place Match
Nick Bluemlein (Grayling) 12-9, Jr. over Giovanni Strong (Escanaba) 9-6, Fr. (Fall 2:31)
5th Place Match
Giovanni Colavecchi (Iron Mountain) 10-11, Jr. over Bryce Dunstan (Negaunee) 3-9, So. (Fall 0:53)