GNC CHAMPS: Marquette Rules Beauchamp Farm

FLAT ROCK---Marquette High School won both the boys and girls Great Northern Conference cross country championships on Thursday in Flat Rock.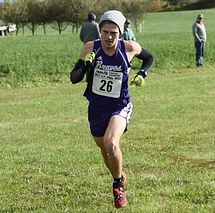 The Gladstone Braves were runners up in the boys race while the Menominee Maroons were second in the girls race.

Gladstone's Adam Bruce was the top boy, winning the race in 16 minutes, 53 seconds. His teammate, Jake Strasler was second in 17:42.

Marquette's Ericka Asmus won the girls race in 20 minutes, 26 seconds, with Redette teammate Delaney Sall second, 29 seconds behind, in 20:55.

The team scores had Marquette win the boys race with 33 points, followed by Gladstone with 41, Menominee (71) was third, followed by Escanaba (89). In the girls race, Marquette had 32 points, followed by Menominee (43), Kingsford (65), Gladstone (92), and Escanaba (119).

The results are posted below, courtesy of www.superiortiming.com.


Click the thumbnails in the ARTICLE HIGHLIGHTS box above to see photos, a video interveiw with Adam Bruce, and videos of the race finishes.


Boys Varsity
1
1
26
Adam Bruce
Gladstone
16:53.6
5:26
2
2
34
Jake Strasler
Gladstone
17:42.7
5:42
3
3
109
Mathurin Gagnon
Marquette
17:45.9
5:43
4
4
177
Hunter Shepeck
Menominee
17:48.1
5:44
5
5
112
Peyton Osborne
Marquette
18:02.2
5:49
6
6
33
Giovanni Mathews
Gladstone
18:09.4
5:51
7
7
114
Moses Waite
Marquette
18:12.3
5:52
8
8
111
Hogan Nemetz
Marquette
18:16.7
5:53
9
9
3
Derek Douglas
Escanaba
18:22.0
5:55
10
10
113
Matthew Pillifant
Marquette
18:25.9
5:56
11
11
2
Brodey Bevins
Escanaba
18:29.1
5:57
12
(12 )
110
Julien Malherbe
Marquette
18:34.5
5:59
13
(13 )
108
Cadin Cahill
Marquette
18:43.8
6:02
14
14
169
Landen Clausen
Menominee
18:47.1
6:03
15
(<5)
51
Brandon Malburg
Kingsford
18:50.1
6:04
16
15
29
Blake Krouth
Gladstone
18:51.8
6:05
17
16
174
Braeden Park
Menominee
19:35.3
6:19
18
17
25
Andrew Bracket
Gladstone
19:47.2
6:22
19
18
176
Nick Sandahl
Menominee
19:58.1
6:26
20
19
175
Adam Sandahl
Menominee
20:02.2
6:27
21
(20 )
43
Dylan Krause
Gladstone
20:12.0
6:30
22
(<5)
55
Luke Ruble
Kingsford
20:14.1
6:31
23
21
5
Colin Hudson
Escanaba
20:18.7
6:33
24
(22 )
32
Bryce Lamarche
Gladstone
20:19.8
6:33
25
(<5)
56
Luke Sturm
Kingsford
20:51.8
6:43
26
(<5)
53
Parker Morgan
Kingsford
20:51.9
6:43
27
23
8
Charlie Tackman
Escanaba
20:56.1
6:45
28
(24 )
167
Evan Casey
Menominee
20:57.1
6:45
29
25
4
Jared Hansen
Escanaba
21:36.6
6:58
30
(26 )
196
Jason Bowers
Menominee
22:01.9
7:06
31
(27 )
6
Zach Morehouse
Escanaba
27:48.3
8:58
Girls Varsity
1
1
115
Ericka Asmus
Marquette
20:26.9
6:35
2
2
120
Delaney Sall
Marquette
20:55.3
6:44
3
3
77
Lily Menghini
Kingsford
20:59.4
6:46
4
4
180
Hayden Buck
Menominee
21:04.0
6:47
5
5
178
Katie Anderla
Menominee
21:07.8
6:48
6
6
118
Reegan Ketzenberger
Marquette
21:14.8
6:51
7
7
72
Sarah Kulas
Kingsford
21:36.6
6:58
8
8
181
Jaida Lesperance
Menominee
21:57.5
7:05
9
9
22
Ciara Ostrenga
Escanaba
21:58.6
7:05
10
10
117
Josie Danielkiewicz
Marquette
22:05.0
7:07
11
11
35
Jamisyn Bergeron
Gladstone
22:19.1
7:11
12
12
182
Maren Park
Menominee
22:20.9
7:12
13
13
119
Olivia Moffitt
Marquette
22:44.1
7:20
14
14
179
Abby Bradfield
Menominee
22:45.8
7:20
15
15
57
Gabby Carey
Kingsford
22:49.2
7:21
16
16
36
Chloe Charlebois
Gladstone
22:59.4
7:24
17
(17 )
116
Samantha Borzick
Marquette
23:17.2
7:30
18
(18 )
121
Guinn Wuorinen
Marquette
23:48.9
7:40
19
19
80
Sydney Scott
Kingsford
24:01.1
7:44
20
20
37
Lilly Karl
Gladstone
24:11.7
7:48
21
21
61
Grace Cole
Kingsford
24:21.7
7:51
22
22
40
Lydia Tembreull
Gladstone
24:35.5
7:55
23
23
41
Aleyna Wetthuhn
Gladstone
24:50.5
8:00
24
(24 )
38
Samantha Strasler
Gladstone
25:15.4
8:08
25
(25 )
62
Emily Curtis
Kingsford
25:39.7
8:16
26
26
21
Kyra Magnuson
Escanaba
25:58.9
8:22
27
27
15
Holly Chenier
Escanaba
26:35.1
8:34
28
28
18
Ava Fix
Escanaba
26:35.1
8:34
29
29
20
Gabi Lacosse
Escanaba
26:45.6
8:37
30
(30 )
19
Brooke Furmanski
Escanaba
26:57.1
8:41
31
(31 )
39
Jenna Tardiff
Gladstone
27:26.2
8:51
32
(32 )
211
Amber Poquette
Menominee
28:25.1
9:10
33
(33 )
206
Olivia Anderson
Menominee
28:42.4
9:15
34
(34 )
16
Jillian Cobb
Escanaba
30:04.4
9:42