HAPPY HOMECOMING: Braves Top Lakers, 28-8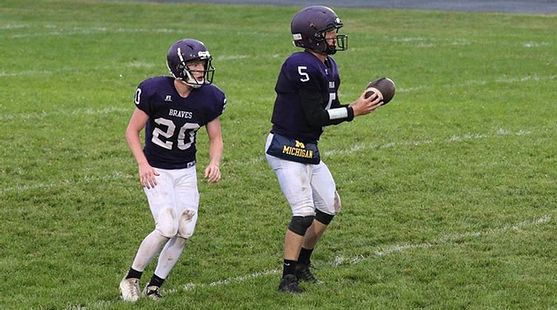 GLADSTONE---The Gladstone Braves improved to 3-2 on the season with a 28-8 win over the Maple City Glen Lake Lakers Friday night on Gladstone Homecoming.

Jared Crow threw three touchdown passes to Vince Hughes (35, 15 and 31 yards) and Brody Sanville had an eight-yard TD run.

"I'm really proud of the kids," Gladstone Coach Jeff Hansen said. "They really came out and planted the flag, and defended their home turf. We've been on the road for about a month, so it just felt good to get on our field, in front of our fans, on our Homecoming, and the seniors really led the way tonight."

"The crowd was just awesome and Jared was putting the ball right on the money," Hughes said. "I was just trying to find open space after I caught the ball. I think they were putting two people over on Rudy (Peterson) and they were blitzing, so I was open a lot of the time. The energy was awesome. We played every snap as intense as we could."

On defense, Dan Martin had four quarterback sacks and Doby Gillis added three.

"I was just trying to play as hard as I could, and dominate my end, and got in there to the quarterback a good part of the time," Martin said. "The atmosphere, with it being Homecoming, and our home crowd. It doesn't get any better than this."

"He (Martin) really listens to everything his coaches tell him to do," Hansen said. "Dan's an animal. He's just got a motor that just does not stop. And it's hard to believe that it's his first year of playing football."

Crow left the game in the fourth quarter with an injury.

"He tweaked his back, and I'm not really sure the extent of it," Hansen said. "We'll go through the weekend, and then wait for what we hear from the medical personnel on Monday as far as where to go with Jared."

Gladstone travels to Sault Ste. Marie next Friday night.

"They're a Class A school, and they're gonna put a lot of athletes out on the field, guys that are big and strong," Hansen said. "If we continue to do this, I'm confident that we can go to the Soo and take care of business."

Sault Ste. Marie beat West Branch Ogemaw Heights, 20-18, Friday night.

Click the thumbnails in the ARTICLE HIGHLIGHTS box above to listen to post-game interveiws with Hansen, Vince Hughes, and Dan Martin.