WHAT A GAME: Redmen Overcome Eskymo Rally

MARQUETTE---The Escanaba Eskymos rallied from a 28-7 deficit and took the lead in overtime, but the Marquette Redmen scored a touchdown and added a two-point conversion to pull out a thrilling victory, 36-35, Friday in Marquette.


After Brendan Kaski scored on a three-yard quarterback keeper, the Redmen had a 21-point lead, with 4:34 left in the third quarter.

That's when the Eskymos turned things around with a Craig Kamin touchdown pass to Ben Willis.

There was a bad snap on the extra point kick, and the two-point play failed.

In the fourth quarter, Kamin got loose for a 30-yard touchdown run, and Ethan Silverstone knocked in the extra point to bring the Eskymos to within 28-20.

The Eskymo defense got a big sack of Kaski on third down, forcing a punt, which was booted out of bounds, with 2:46 left in the fourth quarter. It didn't take long for Kamin to get going again, taking it 40 yards to the house with 1:36 left in the game.

Both teams called time out, with a huge two-point conversion play looming. The Eskymos converted, and all of a sudden, it was a 28-28 game.

Escanaba actually had a chance to win in regulation when Kamin intercepted a Kaski pass in the final minute. But four throws to the end zone came up empty.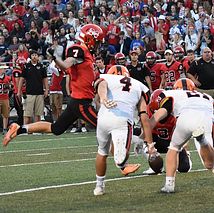 The Eskymos got the ball first in overtime, and it went to fourth-and-ten before Kamin found Josh Bruntjens in the end zone for the touchdown. Silverstone's extra point kick made it a 35-28 Escanaba lead, the team's first lead of the night.

But Marquette got its chance from the ten, and Brady Wright scampered into the end zone, making it a 35-34 game. The Redmen decided to go for the two-point conversion, and they got the sweep run by Robert Apple to win the game.

Earlier in the game, Kaski hooked up with Ethan Martyz on a 41-yard touchdown pass to give Marquette a 14-0 lead.

The Eskymos battled back to within 14-7 on a Issac Cooper touchdown run and Silverstone extra point kick.

Marquette took a 21-7 lead into the locker room on a TD run by Apple.

Marquette hosts Petoskey next weekend while Escanaba hosts DC Everest.

Click the thumbnails in the ARTICLE HIGHLIGHTS box above to see photos, videos from Friday night's game.