Bay College Celebrates Successful 1st Sports Seasons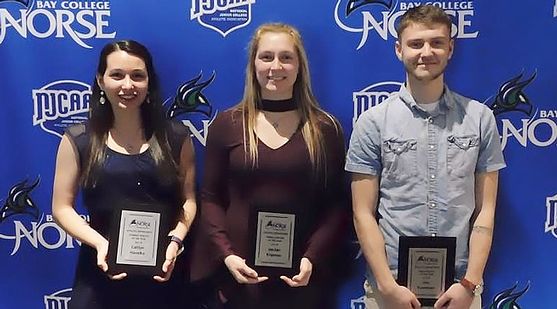 ESCANABA---By all accounts, the first season of Bay College Athletics was a success.

And those team and individual successes were celebrated Tuesday night during a banquet at the Heirman University Center.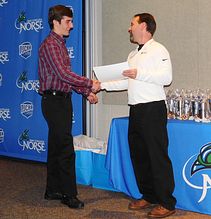 The men's and women's cross country teams competed in five events last fall, with many of the runners competing in "long" races for the first time.

Coach Jim Murtha's team was successful in the classroom, being named NJCAA Academic All-Americans with the 17th highest grade point average in the country, out of 500 schools offering the sport.

"You guys made history," he told the team. "No one can ever take that away."

Nick LaRose and Caitlyn Havelka were named Most Outsanding Runners, while Zoie Berg and Steven Magnusson were named Most Improved Runners. The "Norse Award" for character went to Rhyan Murtha, who will graduate from Bay this spring.

The women's basketball team, the first in college history, went 14-11 this season. The team's leading scorer, Jordan Kraemer, was named the Most Outstanding Player. Bark River-Harris graduate Paige Welch was named "Most Improved", and Caitlin Hewitt received the "Norse Award". Hewitt will graduate this spring.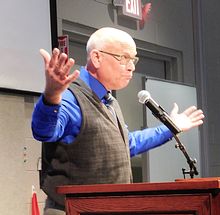 "Because of them, we have 16 kids coming here to play next year," Coach Rae Drake, Jr., said of the team he calls 'the Magnificent Seven'. "These are the girls who broke the ice, and I am very proud of them."

The men's basketball team, the first on campus since the 1970's, exceeded expectations by finishing with a 21-9 record this season. Dre Tuominen was named Most Outstanding Player, Kobi Barnes was named the Most Improved Player, and Escanaba's Tyler Willette and Menominee's Marcus McKenney shared the "Norse" character award.

"It was a gamble for you to come to Bay College," an emotional Norse Coach Matt Johnson said. "You took a chance on us, and there's no way we can ever repay that. You've set the foundation. You're incredible role models."

The main three awards were the Male Athlete of the Year (Tuominen), Female Athlete of the Year (Kraemer), and Student Athlete of the Year (Havelka).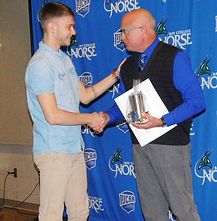 The college also said goodbye to five graduating sophomores: Murtha, Havelcka, and LaRose from the cross country teams, and Hewitt and Damian Richmond from the basketball teams.

Those in attendance heard from motivational speaker Brian Bosley, who came up from Grand Rapids to challenge the students to be leaders, not followers.

"Lead or follow," he said, "now or later. Always give your best, respect and love other people, and have fun. Put a smile on your face."

Bay College will add two more sports next school year: baseball and softball.

Click the thumbnails in the ARTICLE HIGHLIGHTS box above to see photos, videos from Tuesday night's banquet.