Bay College Women Battle Past St. Clair CC, 64-58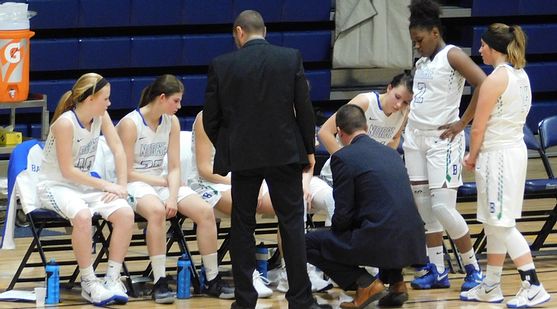 PORT HURON---The Bay College women's basketball team salvaged a split at a tournament in downstate Port Huron on Saturday, beating St. Clair Community College, 64-58. Jordan Kraemer led all scorers with 28 points.

The Norse picked up the win 24 hours after losing an 18-point lead to Mott Community College. And they played without Coach Rae Drake, Jr., who had to sit out because he was ejected at the end of Friday night's game for arguing a non-foul call.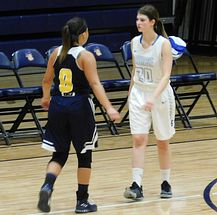 So, men's coaches Matt Johnson and Matt Gregory took over, and they watched as the women went to work on St. Clair's 6-foot-3 center Emily Fleischmann.

She got into early foul trouble with three fouls and was not a factor in the game, scoring six points.

Bay took a 14-11 lead after the first quarter as Kraemer scored eight points, and then the Norse played one of their best defensive quarters of the season in the second, holding the Skippers to seven points. Bay led at halfrime, 30-18.

The Skippers (3-4) got hot in the third quarter, scoring 22 points as Kiara Kelley and Brooke Junaud each nailing two triples. But the Norse weathered the storm, and maintained a 48-40 lead entering the fourth quarter.

Kraemer keyed a 7-0 run to give Bay its biggest lead of the game, 55-40, with seven minutes left. The Skippers put on a big rally in the final minutes, as Chante Parker hit two long triples to bring her team to within three points at 61-58.

But Paige Welch went to the free throw line and calmly sank two foul shots and Caitlin Hewitt also hit a foul shot to help the Norse capture their fourth win of the season.

Besides Kraemer's 28 points, Justice Kinnunen had 12 (including three triples), and Welch added 11 points. The Norse made 13 of 23 shots at the foul line as a team.

Bay (4-5) is on the road Wednesday night to face Alpena Community College. Game time is 5:30. It will be broadcast live on WMXG-FM (Maverick 106.3).

Click the thumbnails in the ARTICLE HIGHLIGHTS box above to see photos and videos, and hear Sage Rogers' player spotlight interview.