Bay College Women Slowed By MMCC Lakers 67-41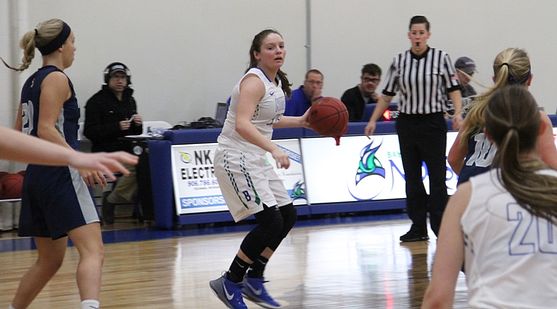 ESCANABA---The Bay College women's basketball team was held in check for most of the afternoon by a tough Mid Michigan Lakers defense on Saturday afternoon, 67-41, at the Northern Lights YMCA Gym. The Norse leading scorer, Jordan Kraemer, was held to six points in the loss. Paige Welch led the way with 12 points on four triples.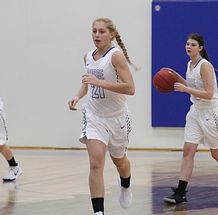 "This is what we're going to keep seeing," Bay College Coach Rae Drake, Jr. said. "They took away Jordan. And you live by the three, you die by the three, and we certainly died today."

"We weren't very good shooting the ball. But give Mid-Michigan a lot of credit. They took Jordan right out of the game with a box-and-one, and not only a box-and-one, but they hounded her. There were two, three people on her sometimes."

Bay College trailed, 20-12, after one quarter, but was able to make one big spurt to get to within 29-27 with 3:50 left in the half.

But the Lakers (2-0) scored the final 13 points of the second quarter to regain control of the game. The Norse scored just 14 points over the final 24 minutes of the game.

"We did some pretty good things against that box-and-one at times, but it was all on the fly," Drake, Jr. said. "We were stagnant. But I'm proud of the girls. They battled to the end, they did battle. But we just couldn't hit a shot."

Justice Kinnunen and Jordan Belleville both scored eight points for the Norse.

Mid Michigan's 5-foot-11 freshman Breyton Meeks led the way with 17 points.

Bay College fell to 2-3 on the season, and the women will not have a game on Tuesday because the UW-Fox Valley team doesn't have enough healty players. So the Morse return to action on Nov. 20 at home against Lake Superior State University's JV team.

Click the thumbnails in the ARTICLE HIGHLIGHTS box above to see photos, videos taken by Dan Williams. Click the AUDIO buttons to hear Drake's post-game comments, and hear Jordan Belleville's player interview.