Bay College Women Cruise Past Alpena CC, 82-57

ESCANABA---The Bay College Norse women's basketball team jumped to a 19-4 lead and cruised to a 82-57 win over the Alpena Lumberjills Wednesday night in Escanaba.

Jordan Kraemer had 26 points and grabbed 12 rebounds to lead the way. Paige Welch added 18 points with three triples, and Caitlin Hewitt knocked down five three's to score 15 points. The Lady Norse improved to 2-2 on the season after two losses in Iowa.

Bay College Coach Rae Drake, Jr., wanted a bit more consistency from his girls.


"When you play against a zone defense for four quarters like we did tonight, you can always get a three-point shot," Drake said. "When you're throwing one pass, and jacking up a three, that's not good basketball."

"If we get it, work it, move it from side to side, get in the middle, pass it back out, and go inside-out, and then get a three, everybody's in rythym then."

But Drake was happy with the team's ability to knock down the long-range shot, and Hewitt was relieved to finally see some of her shots go in.


"I was actually surprised," Hewitt said. "I haven't been shooting the best. So, I just came out and tried my best. We just needed to work on little things and move the ball around better, because that's when we seem to do the best."

The Norse led, 36-21, at halftime, then put up 30 points in the third quarter to put the game away. Kraemer had eleven of her points in that quarter.

Alpena came to town with just five players, and actually played with four for about two minutes after Morgan Allen twisted her ankle and needed to be taped up. She scored 15 points. Sam Samanski led Alpena with 18 points,14 of them from the foul line.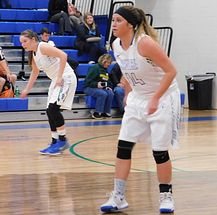 Jordan Belleville had nine points, Teidra Fuson and Saige Rogers both had six, and Justice Kinnunen knocked down a triple as all seven Bay players scored.

Bay College hosts the Mid-Michigan Community College Lakers on Saturday.

Tip-off is 1:00, and the game will be broadcast live on WMXG-FM (Maverick 106.3), and on-line at www.radioresultsnetwork.com.

Click the thumbnails in the ARTICLE HIGHLIGHTS box above to see photos and videos from the game, hear Sage Rogers' player spotlight interview, and comments from Hewitt and Drake.

---MORE---