OPENING NIGHT FUN: Bay Ladies Beat Marinette

ESCANABA---The Bay College Norse women's basketball team had a successful debut Wednesday night, leading from start to finish and beating the University of Wisconsin-Marinette, 95-35, at the Northern Lights YMCA Gym.

Norway High School graduate Jordan Kraemer scored 31 points and Bark River-Harris grad Paige Welch poured in 27, to go along with strong defense at the other end.


Bay College rolled to a 19-5 lead after the first quarter before a jam-packed crowd in the first-ever women's college basketball game played in Delta County.

And after the Norse put 30 more points on the board in the second quarter (15 of them by Kraemer) to lead 49-22 at the half, it was on cruise ocntrol the rest of the night.

"The shooting was contagious tonight," Bay College Women's Coach Rae Drake, Jr. said. "One person hit, than a person hit, then another. Tonight, we shot the ball extremely well."

"And I thought if they had a good shot, they gave it up to get a better shot."

"That was crazy," Welch said. "It was a fun game. I wasn't really expecting it to be that awesome. Coach really stresses the fact that we need to get a couple of passes off before getting a shot. We all want to see success in each other. We don't really care who scores the points. It was good. It's really important to have each others' backs, no matter what."

The Norse made life tough for Marinette's Tori Wangerin, the Stephenson High School graduate who was runner-up for the Wisconsin Collegiate Conference a year ago. Wangerin was held to seven points, with only one basket and five free throws.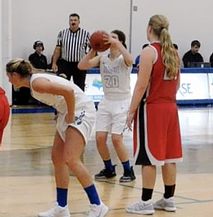 "We knew that we had to get in there and stop Tori, because she's a pretty big threat down low," Welch said. "We were stressing that a lot at practice."

Justice Kinnunen of Baraga added 15 points, and Jordan Belleville of St. Ignace scored 14 as the Norse had four ladies finish in double figures.

"I think we were in real good physical shape," Drake said. "I think we petered out a bit in the last quarter, but our conditioning, I think that's a big difference."

Bay College is back in action on Friday in Mason City, Iowa, against Ellsworth Community College. Game time is 3:00 ET. It will be broadcast live on WMXG-FM (Maverick 106.3) and on-line at www.radioresultsnetwork.com.

Click the thumbnails in the ARTICLE HIGHLIGHTS box above to hear interviews with Drake, Kraemer, and Welch, as well as some radio replays and a video of a Kinnunen three-point play.