Braves Can't Get Big Hit; Fall To Clinton In Final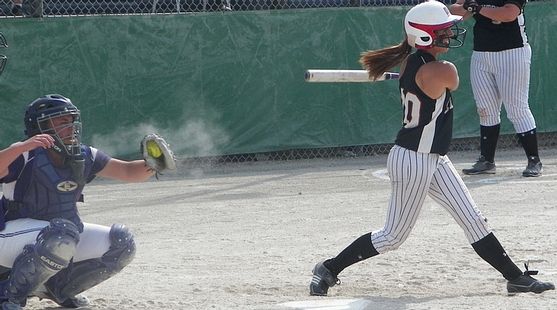 BATTLE CREEK----They posed with their trophy, with tears in their eyes, under sunny skies in Battle Creek's Bailey Park on Saturday.

The Gladstone Braves softball players, eight of them seniors, had just lost to the Clinton Redskins in the MHSAA Division Three state championship game.


Clinton celebrates with its trophy.

And while they were proud of the trophy handed to them by MHSAA officials, the girls wanted the other trophy, the one that went to the Redskins for a second straight year.

Clinton scored three runs in the third inning to break a scoreless tie, added a solo home run in the fourth inning, and then cruised to a 4-0 win over the Braves.

Gladstone actually outhit the Redskins, 6-5, but the Braves never could get that clutch base hit.

"We had runners in scoring position many times," Gladstone Head Coach Jerry Smith said. "We just couldn't get that key hit at the right time. Some days are like that. We just couldn't punch a run across."

"We hit the ball, but we had a lot of pop-ups," said Braves senior right fielder Katie Becker, who had three of her team's six base hits. "If we would have hit the center a little more, possibly a different outcome. A different score. You never know."

The Braves faced the Redskins in last year's state semifinals here at Bailey Park, and Gladstone had a 4-3 lead in the seventh inning before the Redskins got two runs off Braves ace MacKenzie Shepeck to win the game in dramatic fashion.


Jammie Botruff makes a play at first base.

This year, Shepeck is gone, starring now as a pitcher at Western Michigan University. But Clinton ace Tierney Nelson was still around, pitching in her fourth straight Final Four.

And she was on her game against the Braves Saturday, although she was not overpowering. Gladstone had plenty of chances to hit her, but couldn't get that RBI.

Becker got a pop-fly double in the first inning, but was stranded there. Then in the second inning, Nelson retired the Braves 1-2-3. In the third inning, Whitney Wells beat out an infield hit, and Becker hit a double to right to put runners at second and third.

Christine Sharon struck out to end the threat. She was batting in that spot because normal #3 hitter Jordan Schwartz could not bat because she hyper-extended a thumb during a collision while playing defense in Friday's semifinal win over Springport.



"She didn't slide and she was not trying to protect herself," Smith said. "We have pictures that show her forearms are up and she ran into her (Schwartz) to move out of the way. I am still ticked that the umpire didn't see it that way."


Jordan Schwartz's messed-up thumb.

Regardless, the fact that Schwartz couldn't bat (she did play defense) put the Braves at a big disadvantage on Saturday, and put the sophomore Sharon in a tough spot.

Gladstone's bigger problem came in the bottom of the third inning.

Alison Austin seemed to be cruising along, retiring the first seven batters she faced. But things can change quickly in softball. With one out, Liz Barkel hit a grounder to Sharon at third.

Sharon tried to backhand it, but missplayed the ball for an error. Barkel went to second on a wild pitch, and then it looked like she would be thrown out while trying to steal third base.

The throw was there in plenty of time for the out, but the ball kicked out of Schwartz's glove as she covered third base defensively.



Clinton's big third inning.

Then, #9 hitter Melissa Dowell drew a walk on a 3-2 pitch. With the top of the order due, Clinton was in business. Nelson helped her own cause with an RBI single. Haley Mercy followed with an RBI groundout.

And Clinton's Abi Clark got an RBI hit. All of a sudden, it was a 3-0 Redskin lead.


Tinner Sharon pitches in relief.

Then in the fourth inning, Cami Prater launched a solo home run to make it 4-0.

Smith removed Austin from the circle, bringing in Sharon to pitch. Sharon would allow just one hit (a bunt) the rest of the way.

But the damage was done. Four runs was plenty for Nelson, even though the Braves had a lot of traffic on the basepaths.

In the fifth inning, Becker got her third hit of the game and Sharon walked. But Jordan Kowalski grounded out to end the threat.

In the seventh inning, Alex Saunders got hit by a pitch and Wells got her second base hit of the game. But Becker popped up to second base to end the game.

"They were a good team," Becker said. "They kind of took advantage of some of our errors and that was a big thing in the game."

CLICK HERE to see all of the statistics from the championship game.

But Smith thought the mistakes were only a small part of the problem.

"You cannot make a misue at this level," Smith said. "And we did have a couple of miscues. But our miscues didn't really lose the game. We just didn't get that key hit."


Clinton senior pitcher Tierney Nelson.

For Clinton, it was a season that ended with a 43-1 record and a second straight state championship.

And Nelson pitched all four years at Bailey Park, and she will play NCAA Division One softball at Lamar University in Texas next spring.

Nelson's coach, Al Roberts, put it this way:

"Her first game here, as a freshman, she pitched 18 strikeouts against a good Napolean team that at that time had not been beaten," Roberts said. "And I said, 'wow, we've got something special here'. And she's still dominating. We're excited for her future."

And for the Braves, it was an emotional end to a long journey, one that transcends this season and goes back three years for those eight seniors.

"They're a great group of kids, and I just love them," Smith said. "They support the young ones real well, and they did a super job of uniting the team together."

The Gladstone girls will get together one final time, with all of their parents and supporters, this Wednesday night for a picnic and team awards event.

It will be held at 6:00 Wednesday at the Gladstone High School.

Click the thumbnails in the "ARTICLE HIGHLIGHTS" box at the top of this page to see more pictures, videos, and interviews from the title game.