Braves Rally Past Springport In D3 State Semifinals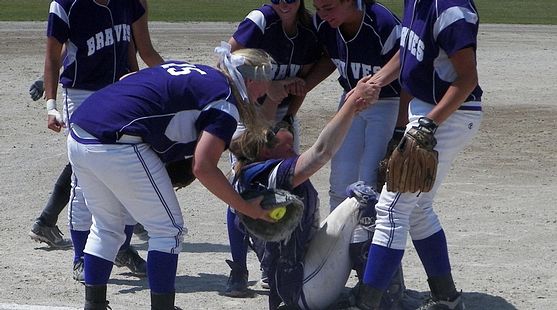 BATTLE CREEK----It wasn't their best effort of the season, but it was good enough.

The Gladstone Braves played above their mistakes and squeeked past the Springport Spartans, 5-4, in a Division Three state semifinal at Battle Creek's Bailey Park.

The Braves will face top-ranked Clinton in the state championship game on Saturday. Clinton eliminated Gladstone in the state semifinals last summer.

"We made some mistakes in this ball game, but we got out of it," Gladstone Coach Jerry Smith said. "Hopefully, we can come and be more relaxed tomorrow."


Jordan Kowalski had an excellent game.

"This is amazing," Gladstone catcher Jordan Kowalski said. "I've never made it to Saturday (at Bailey Park). It feels so good. It took a lot of focus, a lot of commitment and dedication. Even though we got down, we came back, we scored, and did enough to get the win."

The game was not pretty early on. Gladstone scored twice in the top of the first inning when Katie Becker got a one-out triple.

Jordan Schwartz put down the bunt for a single, and then Jordan Kowalski popped up her bunt attempt. She got lucky when Spartan pitcher Sam Bates fell down, allowing the ball to land and a run to score.

Jammie Botruff followed with a bunt to score a second run, and she reached base on another Springport error. But Nicole Sharon's bunt was unsuccessful and Alex Saunders grounded out, so the inning ended with just two runs on the board.

Christine Sharon has pitched well for the Braves this post-season, but she was hit hard in the first inning. Bates doubled, Hannah Baum bunted and was safe on Botruff's error. Rachel Leightner bunted, and the Braves through late to the plate, and a run scored.


Alison Austin concentrates on pitching.

Taylor Heisler followed with a two-run single to make it 3-2, and then Kelsi Lauer got a double. That was all Smith needed to see, as he turned to Alison Austin in relief.

"I didn't even expect to come in," Austin said. "I was like, 'Teener has it'. But they started hitting harder, and I didn't even get a chance to go outside. Smit was like 'are you warm', and I was 'sure, I can go in'. So I went in without even warming up and I was shaking. I was so nervous."

Austin got out of that jam with two strikeouts, and she kept the Spartans off the scoreboard for the next few innings. Gladstone took advantage of two Springport errors in the third inning to tie the game on a Nicole Sharon grounder.

Then in the fifth, freshman Lexi Hongisto was called in to hit for Schwartz. Schwartz was run over by a Spartan player at second base in the bottom of the fourth and hyper extended her thumb. Hongisto came threw with a two-out, two-strike single.



Jordan Kowalski RBI double.

Kowalski then ripped a double to right-center to give Gladstone a 4-3 lead.

The Spartans threatened in the bottom of the fifth when Baum singled, stole second, and went to third on a wild pitch. But Austin got tough, getting a grounder for the first out. Then Springport tried to squeeze home the tying run, but Leightner couldn't get the bat on the ball. Kowalski chased Baum up the line and dove at her, tagging her leg for the out.

CLICK HERE to see all of the statistics from the semifinal game.

"I didn't want to throw it," Kowalski laughed. "So, I just leaped at her, and I caught her."


Jordan Schwartz suffered a thumb injury.

"That was such a good play by Jordan," Austin said. "We were so excited. At first, I thought she was hurt, but she got up and she was better."

But in the bottom of the sixth, Lauer led off with a double and she went to third on a grounder. Harley Hill got an infield hit, then Karri Wiel bunted. The run scored as Wiel was thrown out at first, and Hill was thrown out trying to make it to third base.

With the game tied entering the seventh inning, Austin beat out an infield hit. Ashley St. Cyr ran for her, and Whitney Wells bunted her over.

The throw was bad, putting runners at second and third. That brought up Becker, who fouled off several pitches before whipping a two-hopper to left field to score the go-ahead run.

Gladstone stranded the two other runners, but Austin got the job done in the circle in the bottom of the inning. She gave up a two-out single to Baum, but got Leightner to hit a pop fly to Becker in right. Looking up into the sun, Becker caught it.

"I was just thinking, 'Katie, here you go. You're either gonna make this game, or you're gonna break this game," she said. "I caught it, and it was so exciting."


Katie Becker in center field and Sam Strasser at second base on Friday.

The Braves (30-5-1) had seven hits, with Becker and Kowalski getting two each. The Spartans (39-3-1) had eight hits, with Lauer going 3-for-3.

"Katie hit the ball well and Alison did an awesome job of holding them down," Smith said. "Their pitcher (Bates) was moving quicker than I anticipated, and we miss-guessed a few things at the start. Hopefully, we're back on track for tomorrow."

So, what does Smith think about his upstart team's chances against Clinton in the state championship game Saturday morning?

"We know they have a real good pitcher," Smith said. "We're gonna play accordingly. We've got to play our game, and hopefully, we'll do better than we did today." The game will be broadcast live on WGKL-FM (105.5) and on-line at rrnsports.com, starting at about 9:45 a.m. ET.

Check out the pictures, video highlights and interviews, and audio highlights and videos, in the ARTICLE HIGHLIGHTS box. Thanks to Dan Becker for his help in taking pictures and videos!