Braves, Rockets Prepare For Semifinal Challenge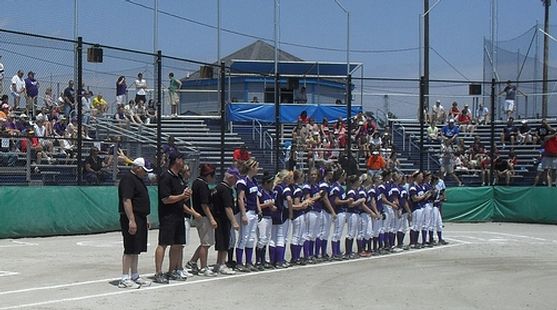 BATTLE CREEK---They've both been there, done that. Now, the Gladstone Braves and Rapid River Rockets softball teams are both looking to bring home some hardware.

The Braves returned to Battle Creek for the eighth time in ten years on Thursday, while the Rockets made the trip to Cereal City for the third time in four years.
Hotel made the Braves a "good luck" cake.
Gladstone faces Springport in a Division Three state semifinal at 11:00 Friday morning, while Rapid River takes on Dansville in the D-4 semifinal at 6:00.

The Braves will face a Springport team that sports a 39-2-1 record and has one of the best pitchers in the state in sophomore Samantha Bates.

Bates won 30 games for the Spartans, including a no-hitter in last Tuesday's 5-0 quarterfinal win over Buchanan.

Gladstone Coach Jerry Smith isn't worried. He says his girls are ready.

"We've looked at everything, and I think we match up pretty good with them," Smith said. "I'm not gonna take them easy, of course, but I think that if we play the game that we're capable of playing, we can beat them."

The Braves (29-5-1) practiced in Battle Creek on Thursday after making the seven-hour drive from the Upper Peninsula. The girls, especially the seniors, are excited.

"We like our chances," center fielder Courtney Nevala said. "We don't think we're the underdog, even though we're ranked lower than the others. It doesn't get old. Each year we get here is more exciting."

"We need really tough defense, and we have to put the ball in play and make them play defense," shortstop Jordan Schwartz added.

Smith hasn't decided yet which of his two pitchers, Christine Sharon or Alison Austin, will get the ball for Friday's semifinal match-up.

Rapid River, meanwhile, also faces a tough challenge in the Dansville Aggies. Dansville is 30-5 on the season, and is led by sophomore pitcher Megan Kelly. Like Rapid River, Dansville has won three regional titles in the past four seasons.

Rockets Coach George Kanyuh and his team arrived in Battle Creek Thursday night after practicing a home before hitting the road. He also believes that his kids will be ready. The Rockets are 33-5 this season.

"I know I sound like a broken record, but it comes down to offense and the mental part of the game," Kanyuh said. "The girls had a good practice last night. They knocked around some rotten fruit and eggs that Mike Dagenais (from Elmer's County Market) gave us. They're really lose, and confident, and that's probably the key for us."

The Rockets girls are hoping to fare better than in their last two appearances at Bailey Park, when they lost their semifinal games.

"This was my goal all year and we're all pumped and ready to go," said Rockets senior shortstop Ashleigh Monticello. "If our pitching's good, our batting's good, and our defense is good....we just have to play our game."

"Coming here three years out of four years as seniors, that's a pretty good accomplishment," Rockets senior left fielder Shannon Wolf added. "If we pitch well, play defense, and hit the ball, it should turn out pretty good."

Gladstone's game starts at 11:00 Friday morning, while Rapid River's contest starts at 6:00. Both games will be broadcast live on WCHT-AM (600) and on-line at www.rrnsports.com.

Click the thumbnails in the 'ARTICLE HIGHLIGHTS' box at the top of the page to see more video interviews with coaches and girls from both local Delta County teams.