Battle Creek-Bound! Rockets Overpower Bellaire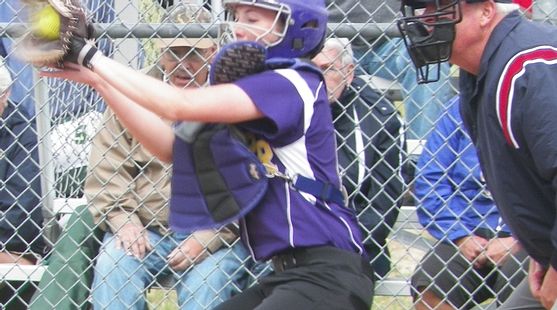 TRAVERSE C ITY---The Rapid River High School softball team got good pitching, strong defense, and timely hitting Tuesday in the state quarterfinals against the Bellaire Eagles in Traverse City. That led to a 10-0 Rockets win that did take all seven innings to complete, but it was a game that's outcome was never seriously in doubt.
Rapid River scored four runs in the third inning to break a scoreless tie, and then added five more runs in the seventh inning to put the game on ice, and send the Rockets into the Division Four state semifinals at Battle Creek's Bailey Park for a second straight year. Rapid River (33-5) will face Dansville High School Friday night in the Cereal City.

Heather Sanderson pitched a three-hitter.
The Rockets had scoring chances in the first and second innings, but could not score against Eagles pitcher MacKenzie Verellen. But in the third inning, things turned in Rapid River's favor. Four runs came in, two of them on a hit by Neena Brockway and another run scored on a double by Sanvannah Stenlund.

A Brockway sacrafice fly in the fifth inning made it 5-0, the then Rockets out it away in the seventh inning with five more runs.

Ashleigh Moticello, who made several nice plays at shortstop, had a two-run single in the seventh inning. This came after she had been walked three times in the game.

Bellaire (25-13) had five errors on defense in the game.

Sanderson was in control, and in command, in the pitcher's circle. She yielded just three hits and two walks for Rapid River, and she fanned nine batters. Verellen took the loss for Bellaire, going all seven innings and allowing ten runs (six earned) on eleven hits. Verellen also walked six batters andstruck out four in her seven innings.

The Rapid River vs Dansville state semifinal game is scheduled to start at 6:00 Friday night in Battle Creek. It will be broadcast live on WCHT-AM (600) and will be broadcast live on-line at www.rrnsports.com.

Click the 'ARTICLE HIGHLIGHTS' box at the top of this page to see more pictures, watch videos, and listen to audio highlights. Also, listen to post-game interviews with Coach George Kanyuh and infielder Savannah Stenlund. Thanks to Mike Dagenais for taking the photos and videos.