Braves Returning To Battle Creek After Shutout Win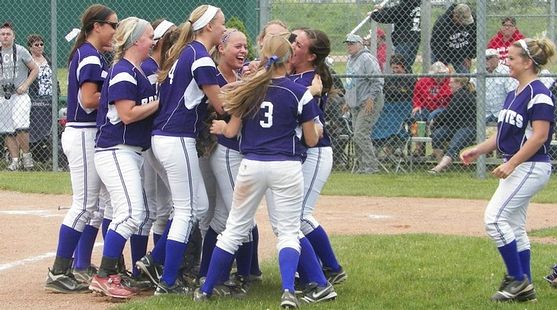 TRAVERSE CITY----The Gladstone High School softball team got off to a slow start offensively on Tuesday, but recovered in plenty of time to cruise to an 8-0 win over the Reed City Coyotes in the Division Three state quarterfinals in Traverse City.

The result sends the Braves into the state semifinals at Battle Creek's Bailey Park. The Gladstone girls will face Springport in the Final Four at 11:00 Friday morning.


Courtney Nevala had four hits.

In Tuesday's game, Gladstone had a hard time generating offense against the Coyotes, who were playing in a quarerfinal for the first time since 2008.

The Braves, meanwhile, have been at this level every single year since 2008, so experience proved to be a factor. Gladstone had the bases loaded in the second inning, but failed to score.

But the Braves broke through in the top of the fourth inning as Alex Saunders singled home Jammie Botruff, who was safe on an error earlier in that inning. The big inning was the fifth, when the Braves scored three times to turn a 1-0 lead into a 4-0 advantage.

And it all started when, with two out, Jordan Schwartz's pop fly landed amongst three Coyote fielders behind second base. Jordan Kowalkski followed with an RBI double to make it 2-0, then Nicole Sharon doubled home a run...and an additional run scored on an error. All of a sudden, Gladstone led, 4-0.

The Braves put the game away with four more runs in the top of the seventh inning to make the final score appear to be a rout. In that inning, Christine Sharon had a two-run single. Other runs scored on a wild pitch and on an outfield error.


In all, Gladstone had 12 base hits, with Nevala going 4-for-4 in the #8 hole. Kowalski had a pair of doubles. Christine Sharon made it all stand up, allowing just two base runners all game long.

Those were back-to-back hits by Courtney Morgan and Taylor Steig in the second inning. Sharon fanned the next two batters she faced after that, Reed City (29-10) did not get any other baserunners, outside of those two hits.

Sharon was in complete control, striking out 13 of the 21 Coyote outs.


Gladstone (29-5-1) will advance to the state semifinals once again this weekend, and will face Springport High School at 11:00 Friday morning. The game will be broadcast live on WCHT-AM (600) and on-line at www.rrnsports.com.

Click the thumbnails in the "ARTICLE HIGHLIGHTS" box to see game photos and videos taken by Mike Dagenais, and listen to audio highlights and post-game interviews.