Braves Open Busy Stretch With Sweep Of Rockets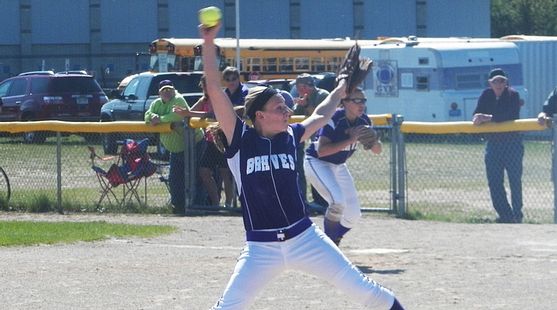 GLADSTONE----The Gladstone Braves softball team will be very busy the next few days, and the girls got off to a good start on Wednesday by posting a pair of wins over the Rapid River Rockets, 8-2 and 6-2, in Gladstone.

This doubleheader was a make-up from a twinbill that was rained out last week.



They'll host Escanaba in a doubleheader on Thursday, travel to Sault Ste. Marie for two games on Friday, and then will play three games at a tournament in downstate Tawas on Saturday.

So, lots of softball in a short period of time.

Braves Coach Jerry Smith mixed up his pitching rotation because of the huge number of upcoming games. Christine Sharon got the start in the opener, and got into trouble in the first inning as the Rockets scored two runs off of her. But Sharon, better known as "Tinner" than Christine, managed to pitch the next three innings without allowing a run.


Rockets pitcher Savannah Stenlund.

The Rockets had their chances, though. They had two on base in both the third and fourth innings, but both innings ended with fly balls to Katie Becker in left field.

Meanwhile, Savannah Stenlund pitched for the Rockets, but couldn't hold the 2-0 lead.

Gladstone scored four runs in the bottom of the first inning. Jammie Botruff singled in Becker for the first run, and then Jordan Schwartz drove Botruff home to tie the game at 2.

Jordan Kowalski brought Schwartz home with the go-ahead run, then the fourth run scored on an infield error.

Later, the Braves added single runs in the third and fifth innings, then scored two more runs to put the game away. Sharon pitched the first four innings to get the win, while Alison Austin finished up to get the pitching save.

Gladstone also won the second game of the twinbill, 6-2.



And both teams are in the running to make a return trip to Battle Creek this summer: Gladstone is 16-4-1 this season, and Rapid River is now 21-5-0.

Rapid River is off until Friday, when the Rockets face the Superior Central Cougars.

The Braves have a lot of softball to play, starting with a doubleheader at home against the Escanaba Eskymos Thursday afternoon at 4:00. Those games will be broadcast live on the radio on WCHT-AM (600), and will be streamed on-line at www.rrnsports.com.

Click the thumbnails in the "ARTICLE HIGHLIGHTS" box to see pictures and video highlights from this game.