ROUGH WEEKEND: Esky Cubs Go 1-3 In Marinette
Click te thumbnails to see photos and videos from the weekend games

MARINETTE, Wis.---The Escanaba Cubs American Legion Baseball team had a rough weekend at the Marinette Firecracker Tournament, losing three of four games by wide margins to Wisconsin teams. The Cubs fell to Manitowoc, 13-0, on Sunday, after losing Saturday night to tournament champion Watertown, 9-1.

The Cubs had also lost to Marinette on Friday night, 10-0. Escanaba managed to pick up a 6-1 win over the Green Bay Preble Hornets Saturday afternoon.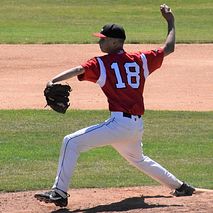 Manager Jon Bintner's team was shorthanded on Sunday, with several key players not at the game for various reasons. Tony Derkos pitched for Escanaba and was charged with all 13 runs in 3 2/3 innings. The Cubs made five errors, though, so only six of the runs were earned. Ridge Guyette smoked a grand slam home run for Manitowoc,

Escanaba had two hits in Sunday's game: Chase Cloutier's infield hit in the first inning, and Ben Johnson's single in the third inning.

On Saturday, Watertown led the Cubs just 2-1 in the fourth inning as young pitcher Lennox Peacock threw well early on in his debut. Things fell apart in the fourth inning, however, as he was tagged with four runs, two of which were unearned due to an error by Peacock on a bunt. Nick Chiu came on in relief and allowed three runs on three hits in his two innings of work.

The Cubs had five hits, including long doubles by Chiu and by Nick Kolich.

Things went better for the Cubs earlier on Saturday against Preble, as Ben Johnson threw six innings of three-hit ball. He struck out six batters and walked three, with Chiu throwing the final inning when Johnson ran out of pitches (103 of the allowed 105).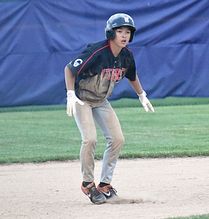 The Cubs only had four hits in the game, as the Hornets made five errors. Johnson helped his own cause with a two-run single in the first inning.

In Friday night's opener, the Cubs were victimized by the pitching of Marinette's Austin Burnside, who pitched at Bay College in Escanaba this spring. Burnside allowed only one infield hit to Chase Cloutier. He struck out ten Cubs batters, and the only other Cub to reach base was Nick Kolich, who was hit by a pitch and drew a walk.

Marinette got a two-run double from Preston Rehwinkel and a two-run single down the left field line during a four-run second inning.

Bon LaChance took the loss for the Cubs, using 94 pitches in three innings of work, walking seven batters and hitting one. Nick Chiu threw two innings of relief, allowing one run, and Eli Gardner finished up for the Cubs.

Escanaba fell to 4-5 on the season, and will host Iron Mountain on Thursday and take on Gladstone on Friday. Both games will be broadcast on WCHT-FM/AM (93.5/600) and on-line at www.rrnsports.com.