Kamin, Crow Steal Show Again In District Semifinal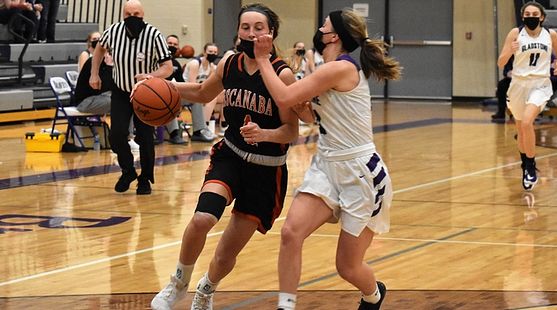 Click the thumbnails to see photos and videos, and comments from Kamin, Crow, and Gladstone Coach Andy Cretens.

GLADSTONE---When the Gladstone Braves and Escanaba Eskymos met in Escanaba earlier this season, Megan Crow scored 34 points for the Braves and her close friend, Nicole Kamin, scored 30 for the Eskymos.

That regular season game went down to the wire, with the Eskymos hanging on for a victory.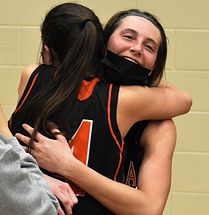 Well, Monday night, the two Delta County rivals met again, with more on the line: a MHSAA Division Two district semifinal game, and a spot in Wednesday's championship.

And Kamin and Crow both found a way to better their previous perfirmances.

Kamin shattered personal and school records by scoring 45 points, while Crow threw in a career-high 36 points, as the Eskymos beat the Braves, 65-48, in Gladstone.

Both girls will play at Grand Valley State University next fall, and both had high praise for each other, and their friendship, after a game that had an atompshere similiar to pre-pandemic Escanaba vs Gladstone battles.

Kamin dominated at both ends of the court, with several steals that led to layups at the other end. She broke the Eskymo school record for points in a career with her performance.

"It feels amazing," Kamin said. "It's always a big Esky-Gladstone game and I'm glad that we went out with a Dub. It feels awesome but the credit definitely goes to my teammates and coaches. That wouldn't have happened without them. It's kind of sad that this is the last time that me and Meg went up against each other. We've been doing it since fourth grade. But at least now we're going to be on the same team once we get down to Grand Valley."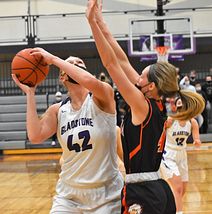 "It was bittersweet," Crow said. "It was a great game to go out on. We played Escanaba, at home. It was our senior year. What more can you ask for? I wish I could have matched her, but she outscored me. Honestly, she deserved it. She worked hard. She was razy on the boards. She did an amazing job tonight."

For Gladstone Coach Andy Cretens, saying goodbye to Crow is very emotional.

"She is just a special, unique person and player," Cretens said. "She left her imprint on our program, and our community as well. I've had her for all four years that I've been here, and it is tough to see her go. She's someone who has become very close to me, and I'm excited to watch her at the next level. She will be missed."

Cretens also had high praise for Kamin.

"She is an unbeleivable player, a once-in-a-lifetime player," Cretens said. "Someone who plays on the court with the boys and is probably faster than the boys. I've never seen a girl, or player, glide up and down the court like she does. And get off the ground like she does, and anticpiate like she does. And finish like she does. create contact like she does."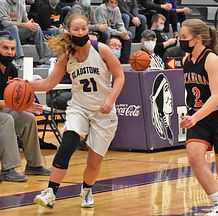 Escanaba led the game the entire game, racing to a 40-20 lead at halftime, with Kamin scoring 28 of those points. Mari Bink and Maddie Monkevich also contrubuted three-point baskets for the Eskymos, who never had their lead slip below eleven points in the second half.

Gladstone committed 21 turnovers, which Cretens said cost his team the game.

"People look at Nicole scoring 45 and think that we didn't play good defense on her, but that was all in transition after we turned it over," he said. "I think maybe the fact that we had an actual crowd in here, with all that energy, I don't know, maybe got to them a little bit."

The game was played under the new state guidelines that allowed four tickets per participant, which meant there were actual student sections for both teams. Previous games were played with very few spectators, mostly parents and close family members.

Gladstone's season ends with an 8-6 record, with three losses to Escanaba.

Escanaba improved to 11-4. The Eskymos will play in the district championship game Wednesday night in Houghton. The Gremlins beat Kingsford Monday, 65-40.