BACK TO WORK: Eskymos Begin Football Practice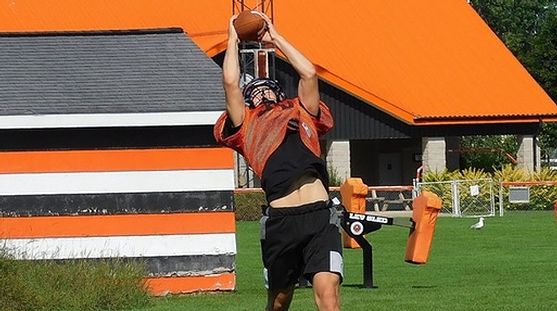 ESCANABA---The Escanaba High School football team is back on the practice field this week as the Eskymos try to follow one of the most successful seasons in school history.

The Eskymos made it to the Division Three state semifinals last year before losing to Grand Rapids Catholic Central. Now the boys are hungry for a repeat performance.


"We've been working hard to get ready," Eskymo quarterback Craig Kamin said. "We've got a tough schedule this year. We've been trying to get everything in as quick as we can. We hope to have a good year. It all starts now."

"It's been really good," Eskymo senior Zeke Strand said. "It's been up-tempo. We're getting ready for Friday when we can get into full pads, and we've got a scrimmage coming up."

"We've got a lot of good guys this year. It just depends on how hard everybody wants to work. It's the work ethic that you put iN."

Escanaba Head Coach Dave Howes says that last year's 9-3 team set the bar high.

"It was a special year," Howes said on last year. "We made the community proud and the school proud. We had a great time and it's all about having fun. The kids are working extremely hard. I'm very proud of where we've come from, just since Monday.

"We lost a lot of seniors from last year, a very talented bunch. But we have some boys who I think will step up."

Escanaba opens the season on Aug. 24 on the road at Alpena.

Click the thumbnails in the ARTICLE HIGHLIGHTS box above to see photos, video, audio interviews, and clips from Wednesday's practice.