THIRD TIME'S THE CHARM: Eskymos Win It All

EAST LANSING---Gabi Salo fired a three-hit shutout and Dakota Cloutier blasted two run-scoring doubles as the Escanaba Eskymos won their first-ever softball state championship, 5-0, over South Haven on Saturday at Michigan State University.

The title came after the Eskymos lost in the semifinals in both 2016 and 2017.


"It feels good," Eskymo Manager Jamie Segorski said. "This group of seniors, they've worked countless hundreds of thousands of hours to get this accomplished. This is always the goal. It feels fantastic."

Salo struck out the first eight batters she faced in a dominating performance that saw her allow just three baserunners. No runner reached third base against her.

"I was mixing everything up, from my screwball, curveball, just fastballs high," Salo said. "And I threw a lot of change-ups."

Salo needed just nine pitches to strike out the side in the top of the first inning, with a 20-minute rain delay in the middle.

Maddy Griffin then doubled home Lexi Chaillier in the bottom half for a 1-0 EHS lead.

"I think that us getting a run right away, it really took the momentum in our favor," Salo said. "It proved that we're here, and we're ready to win."

"That was a great way to start," Segorski said. "We wanted to go out there, shut them down in the first inning, then come back and put a run or two on the board. We got that done. And for that to happen, it just helped them settle into the game."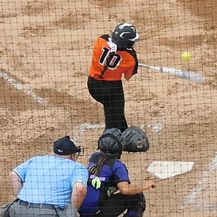 Escanaba tacked on two runs in the fourth inning on two errors and a long double to the right field fence by Cloutier.

Then in the sixth inning, the Eskymos went up 5-0 on three doubles: a pinch-hit shot by Heather Bergstrom, an RBI hit by Savannah Barron, and Cloutier's second run-scoring extra base hit of the contest.

"It was totally awesome because I haven't been hitting well in the post-season," Cloutier said. "But I came through at the right time!"

"She had a great day," Segorski said. "Even the out that she made, she squared up on that one-hopper to short. And she just missed taking that out to right field, opposite field, went with the pitch beautifully. Then she came back in and drove that one right down the left field line for another RBI, so, it's a credit to her."

Escanaba had seven base hits in the game.

Hayley Kreiger threw all six innings for South Haven (32-9), striking out nine batters and walking just one. She also had one of the Rams' three base hits.

CLICK HERE for the game's statistics, courtesy of the MHSAA.

The Eskymos returned home on Saturday evening, where a police escort and parade through town was waiting. There will be a community celebration Monday night at 6:00 at the Escanaba High School Auditorium. Everyone is welcome.

Click the thumbnails in the ARTICLE HIGHIGHTS box above to see video highlights, and listen to interviews and radio replays from the game.