ONE MORE TO GO: Esky Advances To State Finals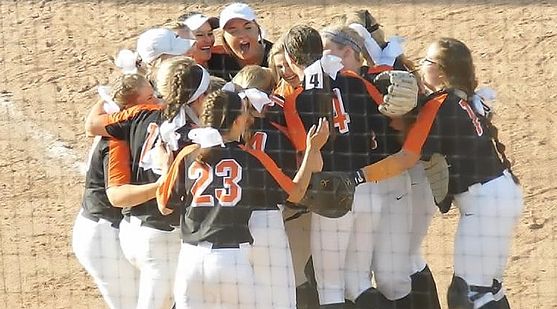 EAST LANSING---Gabi Salo allowed just one base runner over the final five innings and the Escanaba Eskymos slipped past the Eaton Rapids Greyhounds, 2-0, in a Division Two state semifinal game Thursday at Michigan State University.

Taylor Gauthier ripped a double and a triple to lead the Eskymo hitting attack.


The Eskymos had a hard time hitting Greyhound pitcher Grace Lehto early on, as she set down the first nine batters she faced.

But Lexi Chaillier led off the fourth inning with a double, and the Eskymos got a little bit of luck as Claire McInerney popped up a bunt attempt.

The ball was caught at first base, but the throw back to third base for a potential double play was wild. Chaillier scored the first run of the game.

Escanaba got some insurance in the sixth inning when Gauthier smoked one over the right fielder's head for a triple. Gauthier scored when Maddy Griffin hit one off the pitcher for an infield hit.

Eaton Rapids had its chance early on against Salo, with two baserunners in each of the first two innings. But Salo mixed a wicked change-up with her blazing fastball to get out of those jams, and at one point later on, she retired 13 straight batters.

Salo struck out seven, allowed four hits (three on the infield) with one walk.

Escanaba will play for a state championship on Saturday against South Haven, which defeated Dearborn Divine Child, 14-0, in Thursday's other semifinal.

The game starts at 12:30. It will be broadcast live on WCHT-AM (NewsTalk 600), and on-line at www.rrnsports.com, starting after the 12:00 news.

Click the thumbnails in the ARTICLE HIGHLIGHTS box above to see video highlights, photos taken by Mary Gauthier and Tyson Seymour, and listen to pre-game interviews with Gabi Salo and Maddy Griffin. Plus post-game comments from Segorski, Chaillier and Taylor Gauthier.