BOMBS AWAY! Finlandia Triples Sink Norse, 97-77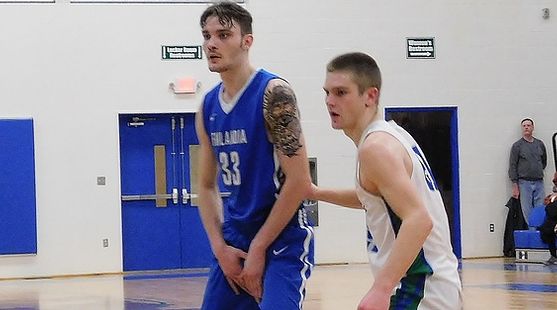 ESCANABA---The Finlandia University Lions men's basketball team sank 17 three-point baskets and beat the Bay College Norse, 97-77, Saturday afternoon in Escanaba.

In the first-ever meeting between the schools, Sault Ste. Marie graduate Tristan Johnston lit it up with eight triples and a total of 30 points.

Finlandia senior Brandon Robinette, an Escanaba High School gradaute playing in his hometown, had 18 points, and made four triples.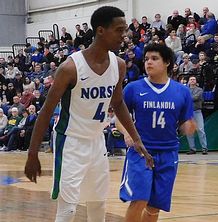 Jacob Oom came off the bench for 11 points, including three triples.

The game was tied at 9-9 in the first half before the Lions scored 15 straight points on five three-point baskets.

The Norse closed to within 42-33 at halftime, and cut the deficit to six on two different occassions in the second half. They couldn't get closer.

It was another stellar performance for Escanaba High School graduate Tyler Willette, who led the Norse with 20 points.

He was often matched up against Robinette, and the game was played before a number of Eskymo players, and Coach Tracy Hudson.

Bay College had problems inside as 6-10 center Kobi Barnes got into foul trouble, and eventually fouled out. He scored 14 points. Guards Dre Tuominen and Alfonzo Fields both scored 12 points for the Norse, and Marcus McKenney added nine points.

The Lions improved to 3-10 on the season while the Norse fell to 12-7.

Bay College has a make-up game set for Wednesday night against Sault College out of Ontario, Canada. Game time is 8:00. It will be broadcast live on WMXG-FM (Maverick 106.3), and on-line at www.radioresultsnetwork.com.

Click the thumbnails in the ARTICLE HIGHLIGHTS box above to see photos and videos taken by Nate Bellville. Also, click the AUDIO buttons to hear interviews with Robinette, Tuominen, and Bay Coach Matt Johnson.