Eskymos Complete Hockey Sweep In Traverse City

TRAVERSE CITY---The Escanaba High School hockey team picked up two victories at the North/South Hockey Showcase against downstate teams this weekend.

The Eskymos beat the Romeo Bulldogs, 4-0, on Friday, and then overwhelmed the Portage Central Mustangs, 6-2, on Saturday.

In Saturday's game, the Eskymos threw 51 shots on the Mustang net. Ethan Silverstone scored two goals, Kyle Krutina had a three-assist playmaker, and Joey Jacobson had a goal and an assist. Aaron Young added a pair of assists.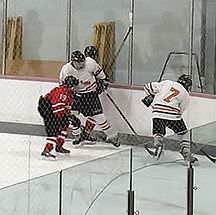 Brayden Stannard, Hayden Haslow, and Luke Labre also scored for Escanaba.

Brodie Goddard picked up the win in net, making 24 saves.

On Friday, Goddard earned a shutout in net against Romeo, and four different players scored Eskymo goals.

Blaine Reinhart scored 5:12 into the first period, then Grant Wickham tallied 1:07 into the second period on the power play.

The Eskymos added to the lead in the third period with another power play goal by Stannard and an even-strength goal by Krutina.

Reinhart and Wickham had assists to go along with their goals.

The Eskymos improved to 4-6 on the season. The boys are on the road Tuesday in Marquette to face the Redmen. The game will be broadcast live on WGKL-FM (Kool 105.5) and WCHT-AM (NewsTalk 600), and at www.rrnsports.com.

Click the VIDEO thumbnail in the ARTICLE HIGHLIGHTS box above to see a video clip of Brayden Stannard's Saturday goal.