Gladstone Doubles Teams Fuel Win Over Munising

GLADSTONE---The Gladstone High School tennis team swept all four doubles flights and posted a 6-2 win over the Munising Mustangs Wednesday at Pfotenhauer Park.

The Braves also picked up a pair of three-set wins at singles in the victory.


"Very excited for the team today," Gladstone Coach Dan Williams said. "We had some really good matches today. Most notable, 3 and 4 singles. Natalie (Hansen) fought back after losing the second set pretty easily, kept her concentration, and worked her opponents weak spots which really helped. She is getting better with every match."

Hansen defeated Kennedy Tate, 6-4, 1-6, 6-1.

Gladstone's other singles win was Erin Stevenson, at the #4 flight. She beat Keira Stampfly, also in three sets, 2-6, 6-3, 6-4.

"She lost the first set 6-2 and was really frustrated, and we talked about just having fun out there and playing her game, and she came back to win the match," Williams said. "Very proud of her and how she came back to win."

Munising's talented twin sisters, Marissa and Kelsea Ackerman, both won their matches at #1 and #2 singles, beating Andie Balenger and Kirsten Williams in straight sets.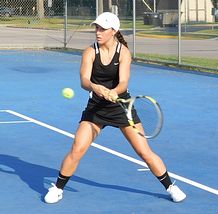 Gladstone's doubles teams had a great day, with three of them winning in straight sets. The only team pushed to three sets were Sydney Herioux and Taylor Trudeau at #1 doubles. They beat Kianne Wendt and Faletha Willy, 3-6, 6-2, 6-3.

"Our number two doubles team was on fire today, and had a great match," Williams said of Hannah Sharon and Shelby Martinucci. " Hannah and Shelby have only played a few matches together, but they are starting to work well together as a team and it paid off today (they won 6-0, 6-1)."

Gladstone's Olivia Saari and Alaina Trudeau defeated Chantelle Harger and McKayla McNally, 7-6 (7-4 in a tiebreaker) and 6-0, at #3 doubles. And at #4 doubles, Marmea LaFave and Kylie Williams defeated Munising's Abbie Hayes and Taylin Behning, 6-4, 6-1.

Click the thumbnails in the ARTICLE HIGHLIGHTS above to see photos and video highlights from the match.