BAY BEGINNINGS: Norse Basketball Signs Recruits

MANISTIQUE/GLADSTONE---The new Bay College men's basketball program took advantage of Signing Day by inking its forst two recruits to National Letters of Intent on Tuesday. Manistique Emeralds guard Darien Nichols and Gladstone Braves forward Joe Gibbs both committed to play for the Norse in the 2017-18 season.

In Manistique, it was an emotional scene as several dozen students and family members showed up at the gym to watch Nichols sign on the dotted line. Nichols, who has overcome Type One diabetes and a small frame to become a college basketball player, was flanked by his emotional parents as he nervously filled out the college paperwork.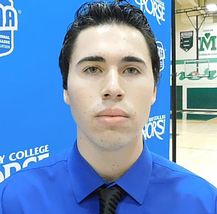 "It's an amazing experience," Nichols said. "I'm very excited. I'm very glad that Coach Johnson chose me to be part of the very first team since 1979. I'm hoping that we can build a very strong foundation for this program for basketball teams to follow."

Nichols was clearly overwhelmed by the support he received from the community.

"Those people that were in the stands is what made me get to where I am today," Nichols said. "I couldn't be here without them, and I appreciate it so much."

A few hours later, it was a more low-key setting inside the Gladstone High School library as Gibbs became the second player to sign with the Norse. Gibbs was also flanked by his parents, along with Coach Clayton Castor and Athletic Director Andy Jacques.

"I think it's very exciting, and I'm really pumped to start it off," Gibbs said. "I can set the bar for future players and it's going to be cool to see how successful they're going to be in a couple of years after we start it off."

Gibbs says he chose Bay College for a couple of reasons.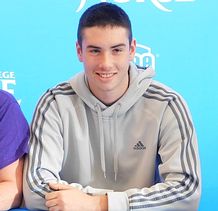 "It's really close to home, and it's not expensive at all," he said. "I love my coach, and I'm just excited for it. It's a good experience to have."

Bay College Coach/Athletic Director Matt Johnson was happy with the signings.

"We're definitely excited to get this thing started," said Johnson, who coached Gibbs as an assistant coach last season in Gladstone. "To have two young men that are both local, and kids that I think are just good young people, is huge for us. We want to set the foundation, and build this thing the right way, with the right guys."

The Norse will play a 30-game schedule in the winter of 2017-18, and Johnson says he has the schedule about two-thirds completed. He hopes to hire a women's basketball coach and cross-country running coach in the coming weeks.

Click the thumbnails in the ARTICLE HIGHLIGHTS box above to see photos and videos from Tuesday's signing events.